In Search of Wild Maine Fish
Magalloway Guide Service is a small client-focused fly-fishing guide operation focused on the Rangeley, Maine experience: seeking 100% wild brook trout and landlocked salmon.
So why choose Magalloway?
Registered Maine Guide/ Master Guide
The certification process to be a Registered Maine Guide is well known as perhaps the most difficult in the nation. Only those guides who are truly competent are able to secure their Maine Guide Patch and lead guests upon Maine's fabled waters. Master certification is granted to a Registered Maine Guide who has worked for 10 or more years and gained an advanced level of specialized experience as a guide. 
Guided Wade Trips for Native Maine Brook Trout
Your host and guide, Tom Welch, is happy to lead you to the fabled waters of the Rangeley, Maine Region to try your luck at wild, natural brook trout and salmon. He leads groups of one to two anglers throughout the various seasons up Maine and focuses exclusively on wade and fly fishing for these wild fish. Catch and Release is mandated on many of these waters though preserving these wild treasures is always encouraged.
No Guide Sub-Contracting
Book with Tom, fish with Tom. We don't rely on a stable of junior guides that end up taking you on the water without deep knowledge of the rivers, the seasons and the fish behaviors. Tom has been fishing these very waters for most of his adult life and has learned the secrets of Rangeley. For large groups or unique situations, we can suggest partners and pair you up with fellow guides. Tom works closely with long-time guiding partner and Magalloway Guide Service member Dick Buffum, a Registered Maine Guide who has decades of experience in the Rangeley, Maine area, as well as in southern Maine.  You can rest assured you'll be in direct contact with Tom before, during, and after your trip.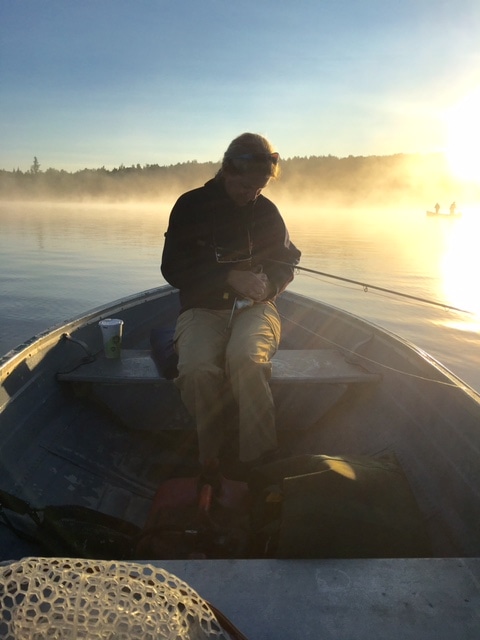 Contact Magalloway Guide Service
Just fill out this simple email form and I will get back as soon as I am off the water and back on land! Due to the nature of my business working in remote locations, I am often unreachable for long periods of time. If looking to book, please give as much notice as possible and feel free to call direct at (207) 229-7383 or email me here. Thanks! -Tom 
I have fished with Tom over the last five years and have found him to be a great guide, always willing to take the extra minute to explain things. Tom has taken me to some great fishing places in the Rangeley area.
Being a novice, I never felt intimidated and the lessons and tips I learned really got me hooked on trying the rivers again. He was right beside me, and would tell me how, show me how and then watch and offer suggestions for me to try again. We learned a lot, and are looking forward to booking another trip with Tom!
Awesome weekend with Tom Welch! Both of us got trout everywhere he took us, regardless of high water. Thank you!
Great Guide! This guy knows where the fish are. Be sure to check him out.